Finding the Best Fit for Your Home
A house is probably one of the biggest investments you could make in this lifetime. A major part of it is what we call roofing. Choosing types of roofs for houses entails careful deliberation. Since the roof shields and protects the entire structure, never rush your way into it. Doing so may expose you and your loved ones to potential dangers. This is also the reason why it makes perfect sense to know what roofing system will work best for you and why.
The key to a successful roofing construction lies in your understanding of the process as well as the implications of your decisions. Before you proceed, conduct a self-assessment to see how far your knowledge of roofing goes. This will also help you narrow down things to decide on more efficiently.
What questions do you need to ask?
These are some of the basic questions you can answer yourself or in collaboration with a trusted local roofer (to get industry-based inputs):
What is the overall look that you want to achieve?
What is the weather like in your location? Is it prone to hail storms, high winds, or other extreme natural elements?
How long do you plan to stay in your house? Or do you have future plans to relocate?
How much investment are you willing to make?
After answering these, it is now time to familiarize yourself with the options you have. Whether you are building a new roof or re-roofing an existing one, you can find a roofing material to fit your requirements. Some are way expensive than the rest but are also more long-lasting. Some may be difficult to install but require less maintenance. Truly, there is a wide variety of residential roofing systems that you can explore.
Without further ado, here are some of the most common types of roofs for houses that dictate durability, design, and cost.
Asphalt Composite Shingles
The base of an asphalt composite shingle is made from either organic materials or fiberglass. With fiberglass, it is more durable and flexible. The base is then soaked with asphalt and coated with minerals making it more weather-resistant and waterproof.
It comes in various colors that you can match to your own preference. Lifecycle extends between 20 to 30 years which is considered average. There are other types that can last longer. Frequent foot traffic and consistent exposure to extreme weather may shorten its lifespan. Homeowners should also watch out for algae growth that may damage the roof.
Slate
Homeowners choose slate for the sophisticated appeal that they bring. Slates are not just downright beautiful. They also have unbeatable lifespan extending up to a century. You can classify them into two:
Natural Slate
Natural slates belong to the most high-end materials you can install for a roofing. With upfront expensive cost, they add up to your property's resale value. They can last a lifetime if given the right maintenance. Highly durable and long-lasting, they also have fire and wind resistance capabilities.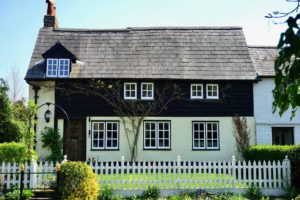 Before installation, make sure you have strong structural support as they weigh about 1,500 pounds per square.
Synthetic Slate
These rubber-based shingles mimic the appearance of a real stone. They are relatively lighter than natural slate which makes installation easier and faster. There is also a big price difference for they cost 50 to 60% less than the traditional slate.
In terms of performance, they can withstand harsh weather conditions and resist fire while demanding less maintenance. Since they are lightweight, it is more convenient to perform re-roofing projects.
Metal Roofing
Metal roofing can be in the form of aluminum, steel, copper, or zinc alloy (with copper being the most expensive). As a medium-cost roofing, they come in sheets or shingles. The outcome is more for industrial and urban design.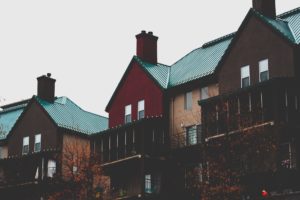 This type of roof weighs from 50 up to 150 pounds per square lighter than concrete and tiles. Some of its features include fire, insect, and wind resistance. It is also low maintenance and durable.
It can last up to around 40 to 70 years with proper installation. Otherwise, metal panels may loosen up causing damage. A low-grade metal may also be less durable.
Flat Roofing
More and more residential owners are turning into flat roofing primarily because it is cost-effective. Aside from that, there are many unique features that can be found in flat roofing that makes it a great choice.
Thanks to its flat surface, they are easier to maintain. You can also spot signs of damages faster. Although it lasts up to 30 years only, which is shorter than the rest, it is quicker to facilitate repairs or replacements.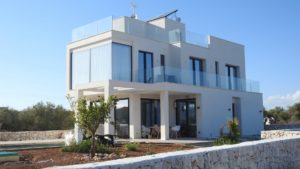 Owners have the chance to convert the flat roofing into a more productive space like rooftop gardens, parking spaces, storage areas, and more.
Wood Shingles and Shakes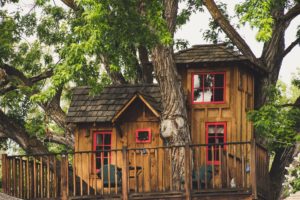 They are appropriate for people after a natural and classic appeal. Since they are made from wood or cedar, they should receive treatments to become rot resistant and fire retardant. High-quality wood shakes can last up to three decades. However, substandard materials and poor workmanship may significantly reduce their lifespan. They weigh about 200 to 350 pounds per square.
Final Thoughts
Learning about the types of roofs for houses is exciting. You get to choose what materials would fit your preference when it comes to visual appeal and performance. However, in reality, these roofing systems have their fair share of pros and cons. It is up to you to assess if this is really what you want to install, maintain, and keep for a long period of time.
When in doubt, revisit the list of questions mentioned in this blog post to serve as your initial guide. Remember that regardless of the materials you select for your property, it still boils down to the quality of installation. For your safety and convenience, reach out to roofing experts and get professional assistance.
Need a professional roofing contractor?
For more than two decades, Sterling Roofing Group has helped countless homeowners achieve their dream roofing. We also specialize in all kinds of roof repairs, replacements, and installations. We guarantee leak-proof, affordable, and eco-friendly solutions for your roofing needs. Contact our team today to get a free quote: (902) 817-ROOF (7663).