As the highest part of a house, a roof protects anything that's beneath it – your family and personal investments. Your roof also plays a huge role in keeping water out and making sure that you live comfortably.
However, because people don't see their roof every day, they rarely follow measures to maintain its good condition. This is why most roofs deteriorate and never reach their maximum lifespan.
There are different factors that affect a roof's lifespan and maintenance is one of them. If you are guilty of this and are currently experiencing roof problems, the best persons who can help you are professional roofing repair contractors.
Finding the right roofing contractor can be tough.
If you require a roof repair or replacement, you need to find the best roofing services in your area. You should not only look for a roofing company that's affordable, you want to make sure that the contractor can satisfy your exact needs.
Any repair, big or small, will be able to help you enjoy a longer lasting roof for your home if done correctly.
In this article, we're going to explore different factors you must consider when looking for a roof repair contractor.
Think Through These 7 Things Before Hiring a Roofing Contractor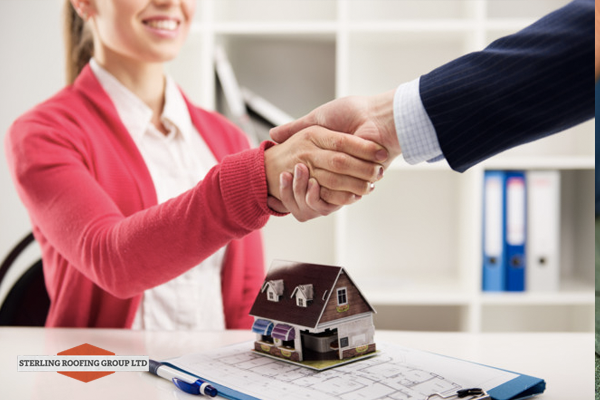 Avoid hiring unscrupulous contractors and suffering from poor workmanship by considering these aspects:
1. Local physical office
Does your prospective roofing contractor have an office in your location? A contractor that doesn't have an office you can conveniently visit is a major cause for concern.
Ask for a contractor complete physical address and check whether they have a full crew or staff members. If not, consider moving on. It's important that you're able to access your roofing contractor in case you need help with anything anytime.
2. Multiple quotations
When it comes to getting a roofing job, Angie's List recommends that you get at least three bids from multiple contractors. Too often, homeowners are in a hurry to get a quick repair only to be frustrated later on because they've been over charged.
If you want to get the best value for your money, solicit multiple bids. Consider each price along with other things on your criteria such as communication, professionalism, licensure, reviews, and more.
3. Previous work samples or references
You will be able to get a good picture of how well a roofing contractor completes a roofing task by asking for samples and references. When it comes to samples, let a contractor show you pictures of their finished work. Most contractors include their portfolios on their websites so look for these.
Ask the contractor for a list of references from clients they've worked with in the past. Try to reach out to these clients and ask some questions. Find out if they have been satisfied with the roofer's workmanship.
4. Licensure and insurance
Does a roofing contractor need to be licensed and insured? Absolutely. With roofers who are licensed, you can rest assured that they will be able to get your roofing job done right. Licensed contractors have passed multiple tests, know the industry well, offer contracts, and have undergone formal training.
Contractors who have license carry insurance at the same time. Insurance does not only protect contractors from workplace injuries but also you as a homeowner. This means that if a roofer gets injured while working on your roof, their company will be the one to provide compensation and not you.
5. Client reviews
The internet has made it very easy and convenient for homeowners to do a background check on roofing contractors they're interested to work with. By simply typing roofing contractor's name + online reviews, you can easily gain access to a ton of client reviews on local listings.
Aside from Angie's List, other websites where you can check your contractors include Yelp, Google My Business, and Yellow Pages. Check the Better Business Bureau as well. Don't just look for positive reviews. Pay attention to how a roofer handles negative complaints.
6. Years of experience
Of course, you wouldn't want to work with a roofing repair contractor that doesn't have a huge amount of experience. To be frank, it takes several years for contractors to be able to handle different kinds of roofing problems well.
A contractor that works in the industry for several years has surely performed yearly maintenance work on roofs they have previously installed. They know the best tools and practices to use. Also, you can trust that these contractors were able to handle roofing problems that result from different weather conditions in your area.
7. Roofing warranty
One of the most important things you need to know is whether a prospective contractor provides a warranty. There are two separate warranties that should accompany a roofing installation: Workmanship warranty and manufacturer warranty.
A workmanship warranty covers against installation mistakes. On the other hand, a manufacturer warranty covers against defects on a roofing material itself, say, a roofing shingle. Professional contractors should stand behind their work. The last thing you would want is to pay for an error that you had nothing to do with.
Final Word
Choosing the right professional to properly handle your roofing needs is no easy task. We hope that our list here has given you much to think about.
We suggest that you make a list of possible contractors and ask them about the 7 things on this list. You can do a quick phone call interview for each contractor so it will be more convenient for you.
If you haven't considered any company just yet, why not choose Sterling Roofing Group? Having worked with multiple homeowners in the industry for over 20 years, our licensed contractors are experienced in handling various kinds of roofing repairs.
For more information and requests for a free estimate, get in touch with us at  (902) 817-ROOF (7663).